I'm Feeling DIEPly Disturbed…
UPDATE: CMS has announced that reconsidering this code change will be the pressing agenda item for its June 1 public meeting. We need all of your voices to be heard – please take action. Links are at the bottom of this blog.  
I was DIEPLY disturbed to learn that thousands of women will no longer have access to a common reconstructive surgery, the DIEP Flap, per a decision made by the Center for Medicare and Medicaid Services (CMS) and backed by the American Association of Plastic Surgeons (ASPS).
How I Chose to Feel Whole Again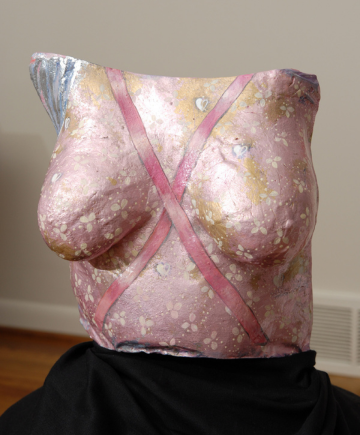 In 2005 when my treatment for breast cancer gave me a choice between mastectomy or lumpectomy and radiation, I chose the latter. I was "newlyish" married and knew a full mastectomy was more than I could handle.
Following two surgeries, as the first did not get clean margins, I was left with a right breast about a third of the size of the left, with what looks like a sand trap on a golf course. What was once the "twins" were now the "sisters."
I considered reconstruction and met with a surgeon. The surgery required enhancing the right breast and lifting the left to match the right, which just sounded like too much. Additionally, after looking at a photo album of reconstructed breasts, I realized I wouldn't get the look, feel and touch of my natural breasts.
I was never offered the DIEP flap procedure.   
DIEP Flap is a widely popular breast reconstruction technique for women who want a natural alternative to implants, where skin, fat and blood vessels from the lower abdomen are cut and used to rebuild the breast. It leaves the abdominal muscle intact unlike its predecessor, the TRAM flap, which involves moving a section of abdominal muscle along with fat and skin up to the chest.
Dr. Elisabeth Potter, MD, has performed more than 1,000 DIEP flap surgeries and says leaving the abdominal muscle intact saves function of the internal muscle structure and helps patients avoid lifelong disabilities and weakness often caused by the TRAM flap.
Now, DIEP flap reconstruction may soon be impossible to access and may even cease to exist.
This Makes Me DIEPly Disturbed...
In 1998, The Women's Health and Cancer Rights Act (WHCRA) required insurance companies that covered mastectomies to also cover reconstruction. However, the law doesn't specify what types of breast reconstruction surgeries are covered.
CMS' recent attack on women's right to choose puts this act at risk, as they've decided to merge all flap reconstructive surgeries under one standard code. This means DIEP flap's unique code used to bill insurance companies will no longer exist.
According to an article by breastcancer.org, surgeons performing DIEP flap surgery are only going to be able to bill insurance at the rate for TRAM flap – the older, less advanced procedure associated with more long-term complications. TRAM flap is also about 70% to 90% less expensive than DIEP flap.
And while coverage still exists, reimbursements for this procedure are going down to levels that make it impossible for surgeons to provide the surgery. So, in this case, "coverage" means nothing.
"Make no mistake, women who want this surgery and have money will always have access to it," Potter said on CBS News. "The only people that this coding change affects and hurts are women who need access through insurance."
Visit the CMS website and you'll land on the homepage with a snippet that states: "CMS serves the public as a trusted partner and steward, dedicated to advancing health equity, expanding coverage, and improving health outcomes."
It seems that this decision regresses health equity, retracts coverage and worsens health outcomes. Literally, this decision does the exact opposite of the statement above.
A WOMAN'S RIGHT TO CHOOSE
Making women whole again, regardless of what that means; implants, TRAM flaps, DIEP flaps should be a woman's right to choose what is best for her.
Getting diagnosed with breast cancer is never a choice. Reconstruction is one of the few phases of our treatment protocol where we're able to make a choice that's right for our bodies.
Now that choice may be stolen from us.
But thanks to push back from the breast cancer community and persistent advocates, CMS has announced that reconsidering this code change will be the pressing agenda item for its June 1 public meeting.
Now is our chance to let our voices be heard. Please join me in taking action:
Contact your senator and local representative. You can find a template here.
Join the upcoming public hearing where CMS is expected to talk about the sunsetting of S code S2068.
Learn more about DIEP Flap and educate others on the importance of this procedure.
Together, we can and will make a difference.