Pink Fund's Mission
OUR MISSION
Pink Fund provides financial support to help meet basic needs, decrease stress levels, and allow breast cancer patients in active treatment to focus on healing while improving survivorship outcomes. Our 90-day grant program allows us to meet their critical expenses for housing, transportation, utilities, and insurance.
"While fighting for their lives, women and men in active treatment for breast cancer often lose their livelihoods."  -Molly MacDonald, Co-Founder
A breast cancer diagnosis can destroy the financial health and well-being of the patient and their family. While in active treatment, many patients are unable to work and experience a loss of income that can result in catastrophic financial losses and the need to rebuild financial health.
Molly MacDonald's Story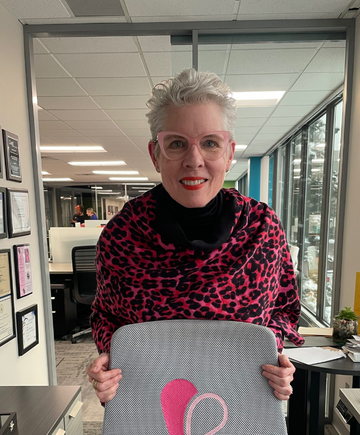 My case was relatively mild, requiring two surgeries and six weeks of daily radiation, but I knew the disruption to the lives of other women was even greater. Like me, many of these women were employed, their families dependent upon their income and health insurance. I wondered what happens to women who are too ill to work and whose jobs might be in jeopardy if they take off too much time for treatment and recovery. I began asking questions of my healthcare providers and learned that while indeed this is a problem, they were not aware of a solution.
I know all too well how stressful it is to struggle financially while fighting cancer, and I'm determined to help prevent other women, men, and their families from the same. To learn more about Molly, visit our Founder's page.
---
Did You Know?
62% of Americans have less than $1000 in savings
21% of Americans do not even have a savings account
50% of bankruptcies are the result of illness or illness-related job loss
In 6 months, a health crisis can throw a family into bankruptcy or homelessness
47% of our national workforce is women
73% of women work full time
31% claim head of household
1 in 8 women will be diagnosed with breast cancer in her lifetime
The average treatment lasts 7-8 months
U.S. Breast Cancer Statistics for 2022
In the US in 2021, there will be an estimated 287,850 new cases of invasive breast cancer diagnosed in women; 2,710 cases diagnosed in men; and an additional 51,400 cases of ductal carcinoma in situ (DCIS) diagnosed in women. An estimated 43,780 breast cancer deaths (43,250 women, 530 men) will occur in 2022. Source: American Cancer Society Facts & Figures 2022
 In 2016, Financial Toxicity was designated as a side effect of cancer treatment by the American Society of Clinical Oncology (ACS, 2020).
Download the full report 2022-facts-and-figures (PDF format) as reported by The National Breast Cancer Coalition (NBCC).
Pink Fund has been formed to help breast cancer patients focus on healing, raising their families, and returning to the workplace. Pink Fund will provide short-term financial aid for a brief period of treatment and recovery.
Literally, millions of dollars are being raised for the important issues of early detection to save lives, and research for the cure "to end breast cancer forever."
Families facing breast cancer urgently need Real Help Now.
Molly MacDonald
Co-Founder & Executive Director
SurThrivor™