In Sickness and In Health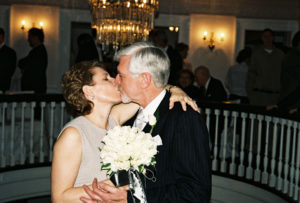 Eighteen years ago in the dog days of summer, my husband Tom, was my caregiver while I underwent two surgeries and six weeks of daily radiation for early stage breast cancer.
In ancient Greece and Rome, the Dog Days were believed to be a time of drought, bad luck, and unrest, when dogs and men alike would be driven mad by the extreme heat!
Personally, this summer, these dog days have been tough for me, as I am doing my best to care for my husband who is in treatment for tonsil cancer. We have a very different approach to managing his illness. Mine is Be Prepared (I was a Girl Scout) and his is, "Let's just take it as it comes." The exact opposite of Be Prepared. These differences are causing us both unrest and we are driving each other mad.
Apparently, Tom felt similarly in the summer of 2005.
When I finished treatment, he remarked, which he vehemently denies, "Don't ever do this to me again," as if my getting breast cancer was something over which I had some control.
I am now the designated caregiver while Tom undergoes seven weeks of treatment, weekly chemo and daily Monday through Friday radiation at The University of Michigan Rogel Cancer Center in Ann Arbor.
When he was first diagnosed, I leaned in to the 1947 Girl Scout Motto, "A Girl Scout is ready to help wherever she is needed. Willingness to serve is not enough; you must know how wo do the job, even in an emergency."
So... I googled tonsil cancer, read up on head and neck cancers, treatments, outcomes, side effects, and of course life expectancy. At my age, I am not prepared to enter the dating world.
I even called Dr. Laila Gharzi formerly of The University of Michigan where she was a breast oncologist, and worked on a research project with Pink Fund recipients now at Northwestern where she switched her specialty to head and neck cancer, because, as she said, it needs more attention.
I attended the head and neck meetings at ASCO, the American Society of Clinical Oncology annual meeting in Chicago in June, gathering all the materials I could and spending six hours on the Amtrak train ride back to Detroit reading and taking notes.
By the time I arrived home I was a certified expert!
Anxious to share with Tom all I had learned so that we could Be Prepared, his response was, Let's wait and see what the doctor has to say.
Tom allowed me to go to his first appointment with his oncologist, who curiously enough is married to a breast oncologist. Tom's treatment plan was laid out, refuting some of my predictions but confirming others. I felt somewhat affirmed.
When I shared my concerns about Tom's treatment and my caregiving abilities with my oldest daughter, that I was not sure I was up for all this and what would this mean for me, she reminded me, "Mom, remember your vows."
"What vow are you talking about?" I questioned.
"Your wedding vows," she said. "You promised 'in sickness and in health.'"
I reminded her I had recited those vows on two previous occasions, but those two marriages failed as my husbands failed to honor the forsaking all others part and we never got to in sickness and in health, at least not in any critical way, like cancer.
"But Mom," she said. "You are going to need to reach down and find new strength."
Last week, Tom and I were guests on the global health podcast, The Patient From Hell, with host Samira Daswani.
When Samira asked, "How are you doing?" My response was, "I think I am depressed." To which she asked further, "What makes you say that?"
"Well, I haven't taken the laundry out of the dryer for two weeks."
In this new role, I decided to go to Chat GPT for advice. And this is what was quickly spelled out.
As a former patient, you possess unique insights into the healthcare system. However, caregiving demands different skills and knowledge. Invest time in learning about the specific condition of your loved one, (I did that) the necessary care required, and techniques to manage your time and tasks effectively.
The paradigm shift from patient to caregiver exemplifies human adaptability, resilience, and love in its truest form. It redefines our understanding of these roles, blurring the lines of our conventional healthcare perspectives. Each person's journey is unique and complex, often filled with emotional challenges, but it also harbors the potential for immense personal growth and self-discovery.
The role reversal from patient to caregiver is a testament to the resilience of the human spirit. It highlights that care is not a one-way road but a path paved with empathy, understanding, and shared experiences. The lessons learnt are not confined to the realms of healthcare, but resonate with every aspect of life – resilience in face of adversities, adaptability amidst changes, and the extraordinary strength of love and compassion. As we witness these role changes, we must champion and support those taking on this heroic journey.
I am if nothing resilient, but the real hero in all of this is Tom.