Basking in the (pink) glow
It's here, we made it. It's November 1st which means we in the breast cancer space have made it through Pinktober. At first, I was feeling fatigued. I was ready to share with you all how truly exhausted October makes me feel. It is a combination of FOMO, Fear of Missing Out and ROMO, Relief of Missing Out as daily my inbox was flooded with dozens of links to various breast cancer awareness and fundraising initiatives. However, upon reflection my most prominent feeling is gratitude.
Gratitude for our team, who dressed up, showed up and spoke up almost every single day of October, including evenings and weekends to educate about the side effects of financial toxicity and how it impacts treatment adherence and survivorship outcomes. To share how Pink Fund can help mitigate financial barriers with our financial bridge program.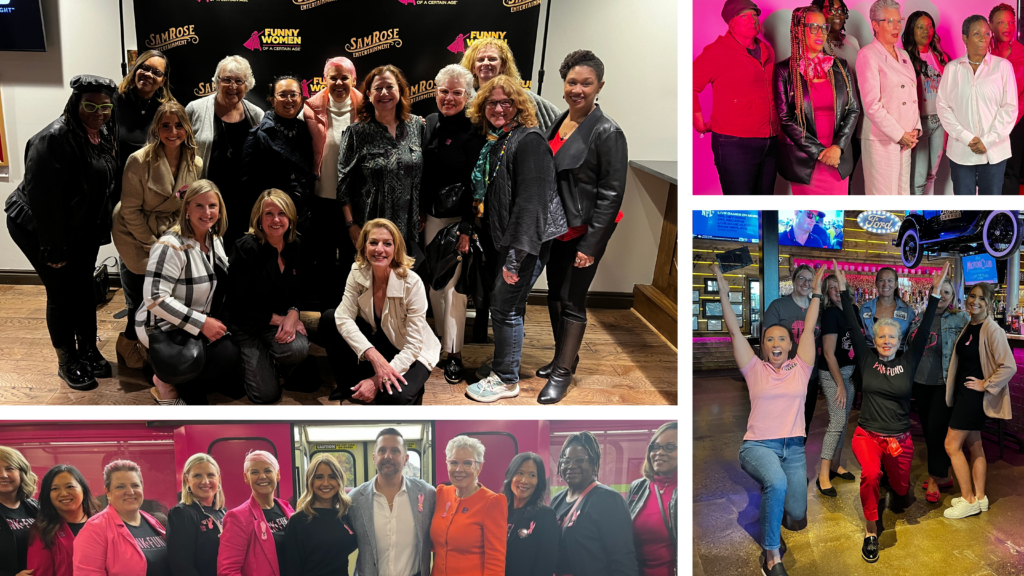 Showing up and working out, showing up and collecting donations, showing up to thank those who fund raised on behalf of those we serve.
Sure, the onslaught of pink clothes, and pink food and pink walks and pink things can be overwhelming, but Pink Fund has been so fortunate this season to receive support from countless people and organizations across the country.
Instead of writing about how exhausting October can be, I wanted to share how fulfilling it was. Whether you donated, volunteered, hosted a fundraiser, showed up to one, you made a difference in October!
We had artists who sold paintings, restaurants who hosted dine and donate nights, fitness centers working up a sweat on our behalf...and women raising money to ride snow mobiles in Bikinis in the dead of winter. You really can't beat that kind of dedication!
Initially, I was Pinked Out. It can be disheartening to see the amount of Pinkwashing that goes on in October. For those unfamiliar, Pinkwashing refers to an organization that appears to support breast cancer but makes no real effort to help (think selling Pink Ribbon gear but never donating to a breast cancer charity). But today, I am feeling a warm Pink glow after an inspiring month.
Here's just a sampling of the events our supporters hosted on our behalf.
44North
Affinity Bands
Altimetrik
Angels of Grace bracelets
Arsenal Co.
Athletes Unlimited
Aubrey Leach, Athletes Unlimited Softball
Barberitos Southwestern Grille & Cantina
Beaumont Health Club
Beverly Hills Racquet & Health Club
Birch Run Cheer Program
Birmingham Seaholm Volleyball Dig Pink Game
Body Burn Studio
Bre-lieve
Brighton - Twelve Oaks
Bringing Back the 80s Festival
Brushstrokes for Hope
Bumpers 4 Boobies
Burst Oral Care Ambassador Walk
Cactus High School Pink Out Football Game
Cadillac of Novi
CAI (Computer Aid, Inc.)
CCM Student Nurses Association
Detroit Pistons Basketball
Domitrovich/Petty Chicago Event
Dream Mighty Blankets
Edgewood High School Water Polo
Epiphany Glass - Pink Power Pumpkin
Essential Bodywear
Essential Bodywear
Farmington STEAM Academy - National Junior Honor Society
Fight Like a Warrior
Fit Body Boot Camp - West Bloomfield
FiT Los Altos "Fight Gone Bad & Wellness Event"
Fleet Farm
Ford's Garage/Icon Restaurant Group
Foster Ford, Inc.
Funny Women of a Certain Age Comedy Tour
Gordy Memorial COGIC Fundraiser
GreyCastle Security
Gugel Photography - Click for a Cause
Holy Cross Greek Orthodox Church Ladies Philoptochos Society
Hufsey Home Services "Comfort for a Cause"
Huge Pussy LLC
Iconic Beauty
iVantage Group
JB Ashtin
Jean & Samuel Frankel Jewish Academy of Metropolitan Detroit
John S. Martinez Sea & Sky STEM Magnet School
Lilly Pulitzer - Somerset
Lingenfelter Collection Fall Open House
LympheDIVAS
Maddin Hauser Roth & Heller P.C.
Maru Sushi
Milford Ladies Night
Moonglow
Mustang Youth Football and Cheer Pink Fund Game
Nail Bar
Naked Memoir candles
Norden Aquavit/Norden Spirits LLC
NVR/Ryan Homes - Baltimore
NVR/Ryan Homes - Charlotte, NC
NVR/Ryan Homes - Maryland East (MDE)
NVR/Ryan Homes - Philadelphia
Oliver Thomas
Papa's Kitchen
Pink Turn N Burn
Public Service Credit Union
Radiance Solar
Real Estate One Milford Breast Cancer Walk
Rothschild Beauty Group
Rusty Bucket
Ryan Plecha's Pink Week
San Jose Fire Fighters L230
Saving the TaTa's Resale Shop
Saylor NYC
Shear Designs Beauty Salon
Sheltair Aviation Services - Panama City
Shoe Sensation 176
Shop Rey Co
Shrine High School Pink Out
Sleep Code
Soleil Pink Ribbon Society Breast Cancer Awareness Month Event
St. Celestine Soccer
Sticky Be Socks
Still Ill Princess - Mendoza Comics LLC
Student Nurses Association at the University of Pittsburgh at Greensburg
Studio on Six Salong & Barbershop
Tampa JEEP Krewe Think Pink, Pink Out
Tata Tape (Affinity Goods)
The Barre Code Gym & Juice Event
The Genesee SnoPackers Bikini Rally
The Salon Professional Academy
University of Wisconsin Audacious A Cappella "Brews for Boobs"
Walking Lightly
Wanda Tucker
Warstic
Whitmoyer Auto Group Good Cause Spotlight
Zumba by Pati Cautillo
And...if we missed you, let us know! We'd love to get you entered in to our database to send a proper thank you.